Advanced Training

To become Golf Injury Certified you will need to complete the Advanced Training seminar and pass the written Certification Examination. The content for the Advanced Training seminar was taped from a live, 3-Day Advanced Training seminar. I have selected 8-hours of video for you to watch and a seminar workbook has been provided for you to take notes as you follow along.
The Advanced Training seminar has been designed for the doctor who wants to establish and grow a referral relationship with the PGA instructors in their community. The PGA instructors are working with hundreds of golf students who are not physically fit or conditioned to play golf. It is difficult for instructors to teach golf to students who present for lessons with postural instability, structural weakness and poor flexibility. Before long, students become frustrated and perhaps injured.

"I've been teaching golf for more than 20 years. I can honestly say that lack of proper golf-specific fitness and conditioning has been responsible of over 50% of every poor golf swing."

Gary G. Setting, PGA
Northern Chapter, SCPGA
2005 Golf Professional of the Year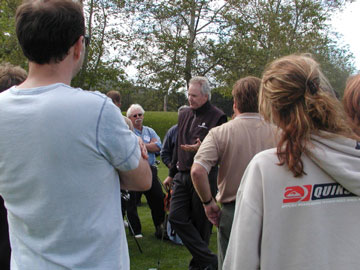 The Golf Injury Certification Program is designed for you to be able to cross-train your medical expertise with PGA instructors. In addition, you will learn how to market your expertise as a Golf Injury Specialist. You will learn how to set up and co-teach preventative workshops on golf fitness and conditioning with the PGA instructors in your community.
The Advanced Training seminar has been divided into 4 parts. Note - some of the chapters are a "live-seminar" review of course work previously covered in Basic and Intermediate Training. You might find that the live presentation, using student case studies, will expand your understanding of the material.

Part I
Introduction: Wellness Hour Interview
Barriers to Performance
Are You Positioned in the Marketplace?
Golf as an Athletic Event: The Mechanism of Injury
Techno-Golf
The Role of Equipment and Performance
Club Head Speed: Sergio, Tiger, Michelle
Videotape Session at the Driving Range
Swing Analysis: Are You in the Right Position?

Part II
Swing Analysis: Key Point 1
Swing Analysis: Key Point 2
Swing Analysis: Key Point 3
Swing Analysis: Key Words and Definitions
The Swing Light Trainer
Swing Analysis: Case Study Wrist Pain
Swing Analysis: Patient Exam Form
Short Game Workshop
Swing Analysis: Student Swing Clips with Correction Protocols
Root Causes of Golf Injuries
Anatomy of a Golf Injury

Part III
14 Key Point Exam
14 Key Point Exam, Continued
Treatment Protocols: Linking Swing Mechanics to Pain Syndromes
9 Hole Playing Lesson
9 Hole Playing Lesson, Continued
Barriers to Performance: Environ-Mental Awareness
Barriers to Performance: Static Practice v. Dynamic Play
Barriers to Performance: Concentration

Part IV
Patient Examination: Posture for Golf
911 Emergency: Acute Care Sequence
Fitness and Conditioning for Golf
Common Golf Injuries
Warm-Up for Golf / Conditioning for Golf
Media, Marketing and the PGA
"No other seminar I know prepares you to attract new patients from a pool of over 27,000,000 Americans who enjoy playing golf."

Dr. Robert Argylean Past President, CCA
Fee: $333 (Prerequisite: Basic and Intermediate Training)